If you're a digital artist or a user of the 12.9-inch iPad Pro, you know how essential it is to protect your valuable device while also ensuring it stands securely and at the perfect angle for your work. In this blog post, we will address two common pain points faced by iPad Pro users and introduce a solution that offers almost perfect protection and support – the Rackora Pro Stand 100.
Pain Point 1: Careful Protection of Your Tablet
Your iPad Pro is a significant investment, and you want to keep it in pristine condition. One of the key challenges is ensuring that the device doesn't get scratched or damaged while you work on it or when you're not using it. Many users look for a reliable solution to protect their tablet's delicate surface.
Pain Point 2: Scratching Issue due to Stand Angle
If you're using your 12.9-inch iPad Pro for digital art or any other purpose, you likely require a stand to hold it at the perfect angle for a comfortable and productive experience. Unfortunately, without a protective case, the back of your iPad Pro can scrape against the metal surface of the stand, causing potential damage to your device. This is a common issue that can be quite frustrating.
Introducing Rackora Pro Stand 100
The Rackora Pro Stand 100 is here to solve these problems by offering a well-thought-out design with a focus on protection and usability for 12.9-inch iPad Pro users. This stand is designed for individuals who are looking to make the most of their iPad Pro while ensuring its safety and longevity.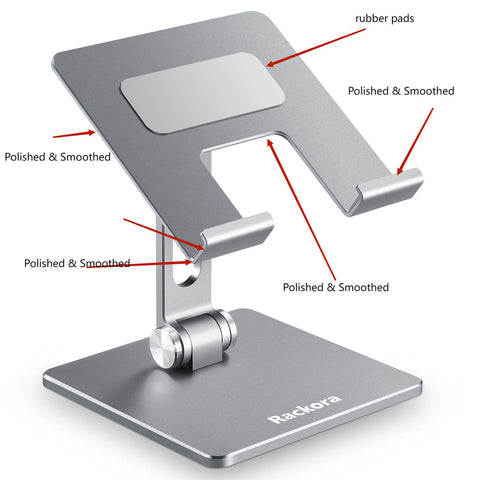 Key Features:
Rubber Pads for Surface Protection: The Rackora Pro Stand 100 features rubber pads on both the main surface where your iPad rests and the bottom of the lip that holds the iPad. These rubber pads serve as a protective barrier, preventing direct contact between your tablet and the stand. This not only keeps your iPad's surface free from scratches but also ensures a firm and slip-free grip.

Scratch-Free Experience: While the bottom of the lip has rubber padding to prevent metal-to-tablet contact, the inside of the lip does not. To address this concern, Rackora has meticulously polished and smoothed the areas that come into contact with your iPad's main surface, the edges, and the inside of the lip. This ensures that there is no risk of scratching or damaging the tablet's fragile surface.
The Rackora Pro Stand 100 is an almost perfect stand for 12.9-inch iPad Pro users, especially those who rely on their tablet for digital art and other professional tasks. With its thoughtful design and protective features, this stand not only offers a comfortable working angle but also safeguards your valuable device from scratches and damage. If you're looking for a reliable stand that combines functionality with tablet protection, the Rackora Pro Stand 100 is a product worth considering. Say goodbye to the worries of tablet protection and enjoy an enhanced and secure iPad Pro experience.